The Nyx is a rebuildable bridge compatible with the Boro R4 format. Designed by the Australian modder Atmo Mods, it has a single coil deck positioned at the top of the boro. Powered by stainless steel cables, it has an adjustable airflow in the center for a DL - RDL vape.
Nyx BY Atmo Mods
One of the first top coil bridge in your boro!
Top coil in a boro
The Nyx is a rebuildable bridge compatible with the boro R4 format of Billet Box Vapor. With a single coil deck, the particularity of the Nyx is to be supplied with liquid by stainless steel cables like the so-called "genesis" atomizers. Its placement in the boro is therefore unconventional because it is positioned not at the bottom of the boro but at its opposite.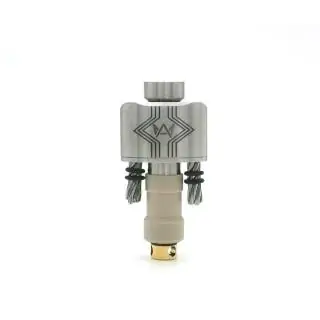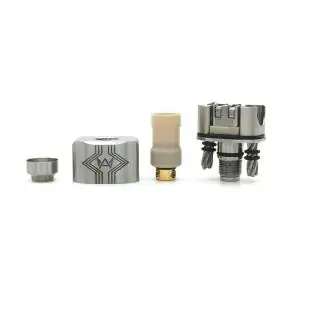 Engineering
The Nyx consists of four distinct parts. The first piece is a long positive pin made mostly of peek. The second part is its single coil deck which is an ambidextrous deck. Indeed, all the coils can be installed in the Nyx whether they are wound clockwise or anti-clockwise and this thanks to its four posts. The third part is the atomization chamber which is held firmly by seals located at the base of the plate. The last part of the Nyx is a chimney with inverted screw thread allowing to make the junction between the atomization chamber and the boro so that these two parts are perfectly sealed.
Airflow
The airflow of the Nyx is modulated. Located in the center of the deck, a peek shutter maintained by an O-ring makes it possible to modify the air outlet. Comes with two settings 3 mm and 3.5 mm, no doubt that it will be possible in the future to restrict the airflow even more for MTL enthusiasts.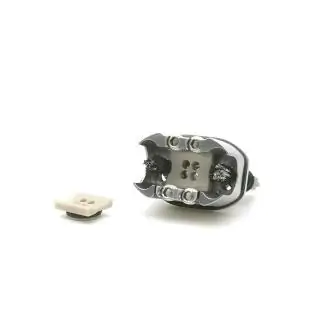 Package contents
1 Nyx
2 Airflows (3 mm and 3.5 mm)
2 Stainless steel cable
1 Unscrewing tool
Delivery methods available
Item shipped only by delivery against signature. Does not benefit from the offer without signature "Free delivery from 59€". Find our shipping rates on our dedicated pages.