Mummy RBA Full Kit - Voodooll
The Mummy RBA is a rebuildable bridge designed by Italian modder Voodooll. Equipped with a single coil deck with parallel opposed studs, it is mainly made of 316L stainless steel and has a total of 8 airflow pins for a vape ranging from MTL to DL.
Mummy RBA Full Kit by Voodooll
The outcome of the RBA bridge seen by Voodooll.
Composition
The Mummy RBA comes from a long line of bridges designed by Voodooll. It thus brings together all the innovations of the brand. Composed of 3 parts, the deck, the atomization chamber and the chimney, it is made mainly of 316 L stainless steel. It has a 510 connection integrated into the deck and its faces are engraved with the Mummy logo and the now famous " Doll."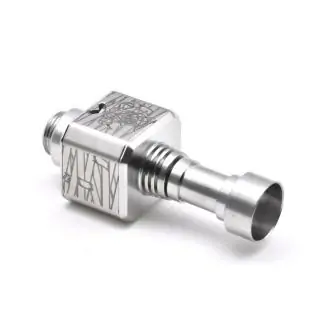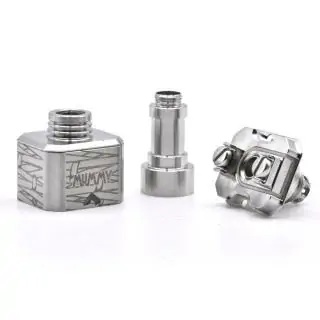 Deck and Chamber
Voodooll takes here everything that has made their reputation with a single coil deck with opposed studs. Each stud has a lug to facilitate the positioning of the coil and its large screws allow excellent maintenance of the resistance as well as great ease during its assembly. Its atomization chamber is made up of two parts which makes it easier to insert the Mummy RBA into a boro and its rectangular shape with beveled sides helps to free up space to accommodate a larger quantity of e-liquid. In addition, its liquid supply is done from below the tray and on its sides in order to guarantee perfect saturation of the cotton.
Full Kit
The Mummy RBA is normally delivered with two airflow pins, a 3.5mm pin and another 1.2mm for an MTL vape. But this kit version contains all airflow pins for a total of 8 opening diameters, allowing precise adjustment of its air inlet from 0.8, 1.0, 1.2, 1.5, 2.0, 2.5, 3.0 and finally 3.5 mm .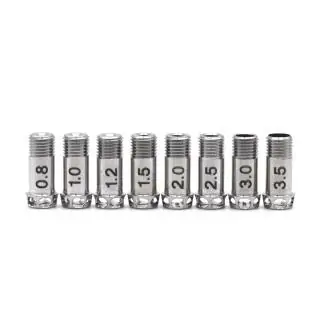 Contents of the packaging
1 Mummy RBA (without doll)
8 airflow pins (0.8, 1.0, 1.2, 1.5, 2.0, 2.5, 3.0 and 3.5 mm)
1 Bag of spare parts