Gandalf DNA60 Walnut - Créavap
e-Pipe Gandalf DNA60 model in Walnut wood and its Churchwarden 8 in ebonite made in France by Créavap. Operating with an 18650 battery, the Gandalf DNA60 is a regulated e-Pipe equipped with the DNA 60 chipset by Evolv. The diameter of its rod fitted with a spring-loaded connector is 22 mm.
E-Pipe Gandalf DNA60 Walnut - Créavap
Another magnificent object from the Crévap workshop! The Gandalf DNA60 is an e-pipe approaching the design of pipes from fantastic films made of Walnut wood, the Gandalf DNA60 works with an 18650 battery. It will be delivered to you in a sublime case accompanied by its Churchwarden 8 stem
The dimensions
The Bowl is 38 mm in diameter for a height of 87 mm, it ensures an excellent and comfortable grip, all with style, worthy of the white wizard. The diameter of the rod is 22mm. The Gandalf DNA60 will therefore easily match with 22mm and lower atomizers.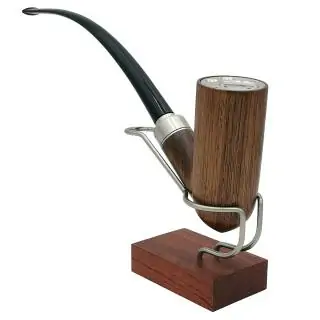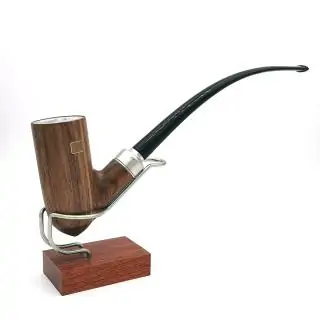 Technical side
The Gandalf DNA60 has an adjustable 510 connector thanks to its spring-loaded pin. It has a 304L stainless steel switch inlaid with Walnut wood on the side of the bowl, accessible to both left and right handed users. Above the bowl, two switches used to adjust the DNA60 are present. The internal part of the bowl is in black delrin and the battery cap is engraved with the serial number.
The Stem
The Churchwarden 8 stem from Créavap made of ebonite (material used for traditional pipe stems) curved 19 cm has a flat spout and a tenon suitable for 510 atomizers.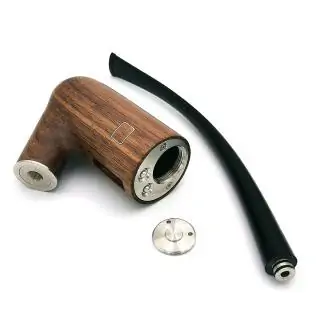 Sold without support or atomizer.
Delivery methods available
Item shipped only by delivery against signature. Does not benefit from the offer without signature "Free delivery from 59€". Find our shipping rates on our dedicated pages.