The Empire Squonk Mod Skeleton Edition is a bottom feeder regulated box mod manufactured by Orca Vape in collaboration with Vaperz Cloud and Grimm Green. Powered by a 21700 battery, it has a bottle with a capacity of 8.7 ml and a maximum power of 100W. It accepts atomizers up to 25.5 mm in diameter.
Empire Project Squonk Mod Skeleton Edition - Vaperz Cloud
The manufacturer Orca Vape is once again joining forces with the big names in vaping industry to design a revolutionary squonk mod
BF is back
The Mod Empire Squonk comes from the collaboration of Vaperz Cloud, Grimm Green and the manufacturer Orca Vape. There is no doubt that all the care and expertise have been taken to design this bottom feeder electronic device. Compact with these 82.5 mm x 48 mm x 29 mm, it is nevertheless in the 21700 format which gives it excellent autonomy, coupled with its bottle with a capacity of 8.7 ml. Its frame is mainly made of aluminum and is equipped with a magnetic door on the side of the squonk bottle.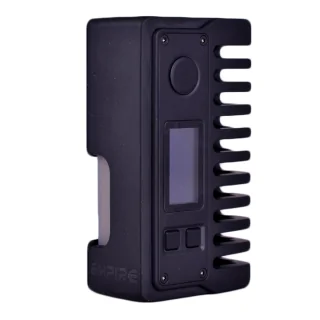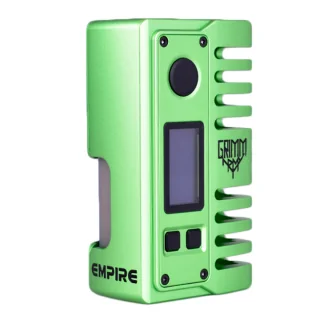 Wire Free
Like the Stubby AIO, the Mod Empire Squonk benefits from the same technologies in its chip. With a maximum power of 100 W, it uses the same clear, precise interface and is equipped with Wattage, Temperature control and Bypass operating modes. In addition, no wire is soldered to the chip, which allows it to be changed quickly and simply if necessary, which is a real feat for a regulated device.
Well thought out
The Empire Squonk Mod is full of good ideas to make it simple to use on a daily basis. Among these innovations is the battery holding wheel allowing easy removal of the 21700 and not damaging the wraps. Its bottle is equipped with a knurled cap on the side which allows easy filling and it has a valve that clips directly into the box to prevent any leakage of e-liquid.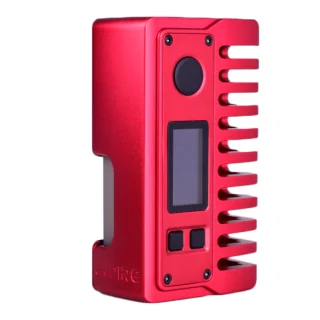 Package content
1 Empire Squonk 21700 mod
2 BF Bottle
1 Spares kit
| | |
| --- | --- |
| Brand | Vaperz Cloud , Orca Vape |
| Capacity | 8.7ml |
| Chipset | Proprietary |
| Max power | 100W |
| Temperature control | Yes |
| Built-in battery | No |
| Number of batteries | 1 |
| Battery Size | 21700 |
| Material | Anodized Aluminum |
| Connectors | 510 |
| Diameter | 25.5mm |
| Dimensions | 82.5 x 48x 29 mm |
| Filling | Squonk |
| Type of product | Squank VV Mod |