The XIV by VoluteModz is a 24mm dripper with a single coil deck, resolutely oriented flavor it is equipped with an ultra reduced chamber. The XIV has an airflow adjustment and is squonk ready thanks to its provided pin. Its size, 14mm, makes one of the smallest dripper.
Dripper XIV - Volutemodz
The XIV is a dripper single coil flavor chaser, it has a reduced atomization chamber (6x5x6.5mm).
Features
Tightening of the coil is carried out simply by means of the ceramic plate and the oversized hand nut. Its top cap allows 4 airflow settings offering a tight draw to air (1x1.3mm, 2x1.3mm, 3x1.5mm, 3x2mm). The XIV will be delivered with two pins including a bottom feeder one , it also come with a drip tip extension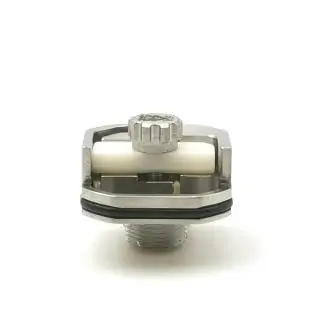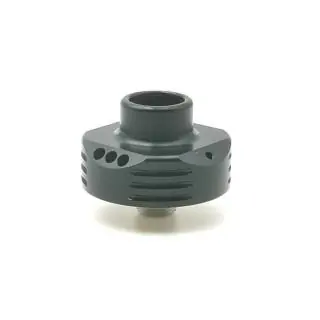 Look
The shape and its lines inspired by the streamline movement give an innovative look and a very low profile (14mm high)
Packaging
Its black matte box is made of wood, it has a reversible lid, one side of which allows you to put your atomizer.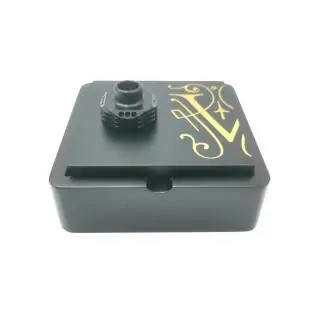 Summary
Ultra-reduced chamber 6x5x6.5mm
Visible height of 14mm (without the extension of driptip)
4 airflow settings: 1x1.3mm, 2x1.3mm, 3x1.5mm, 3x2mm
2 center posts, a conventional one and a BF compatible one.
99% alumina ceramic clamping bar (ultra insulator, ultra mechanical and chemical resistances, inert material)
Vitton o'rings
Peek and Teflon insulators
Additional 4mm extender driptip in delrin
Engravings on nut and tank
Top cap Ø24mm black Delrin