Tripod 2 Deluxe Edition - Atmizoo
The Tripod2 is a rebuildable tank atomizer designed by Greek modders Atmizoo. With a diameter of 22 mm for a maximum capacity of 2.8 ml, it has a single coil deck, and multiple air settings for a vape ranging from MTL to RDL.
Tripod2 Deluxe Edition - Atmizoo
Atmizoo revisits its RTA Tripod atomizer!
Like deja vu
The Tripod2 pays homage to its predecessor. Indeed, at first glance its design is very similar to its first version and only a trained eye will be able to unseal its differences. With a diameter of 22 mm the Tripod2 without drip tip and once screwed on a mod is only 37 mm high. Its single coil plate is equipped with two parallel opposite studs surmounted by two cruciform screws allowing precise and frank tightening of the resistance. Its capacity can be increased to 2.8 ml and its filling is done from the top.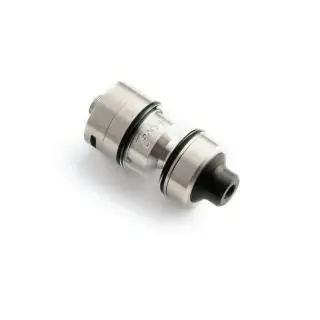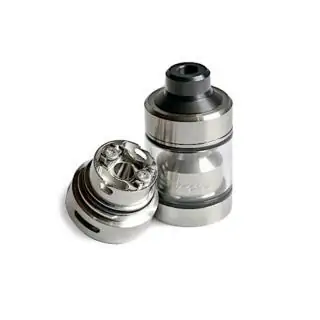 Notable differences
The Tripod2 is a "screwless" atomizer. Atmizoo has made its opening system even simpler. No more symbols to align in order to access the filling or the deck. Now all options have a detent which allows easier use of the different openings of the Tripod 2. It is even possible to have access to the mounting plate; to disengage the top of the tank while leaving the 510 base screwed on your mod and this without losing a drop of liquid.
Completely redesigned airflow
Atmizoo removes the rotary air adjustment ring in favor of pins and removable airflow tubes. Accessible at all times, even with a full tank and a resistance mounted, these airflows are placed under the mounting plate. 10 in number (5 Pins and 5 tubes) allow precise adjustments ranging from 0.8 mm to a maximum of 5 mm opening. In addition two chimneys are supplied with the Tripod2, one of them allows use with a restricted air flow while the other will be more effective with more airy settings.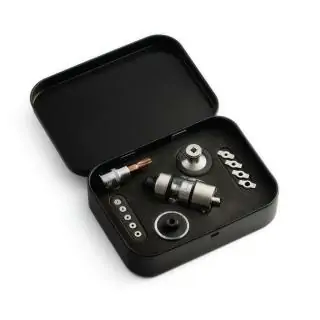 Package contents
1 Tripod2
5 Airflow Pins ( 0.8 mm / 1.0 mm / 1.2 mm / 1.5 mm / 1.8 mm)
5 Airflow Tubes (2.0 mm / 2.5 mm / 3.0 mm / 3.5 mm / 4.0 mm)
1 Restrictive Chimney
1 Open Chimney
2 Drip tip
| | |
| --- | --- |
| Brand | Atmizoo |
| Capacity | 2.8ml |
| Material | Stainless steel |
| Connectors | 510 |
| Diameter | 22mm |
| Dimensions | 22 x 37mm |
| Inhalation | Restrictive Direct (RDL), Indirect (MTL) |
| Tank | Borosilicate |
| Filling | Bottom filling |
| Airflow | Bottom |
| Airflow Control | By interchangeable pins |
| Deck | Single Coil |
| Origin | Greece |
| Type of product | RTA Tank |
Delivery methods available
Item shipped only by delivery against signature. Does not benefit from the offer without signature "Free delivery from 59€". Find our shipping rates on our dedicated pages.