The Samdwich RDA is a dripper designed by Dovpo in partnership with Across Vape. With a diameter of 22 mm, it has a single coil plate, and an airflow adjustment offers a vape ranging from RDL to DL. Bottom feeder compatible.
Samdwich RDA by Dovpo x Across Vape
Innovative, versatile and qualitative
Appetizing 
The Samdwich is a dripper designed by the manufacturer Dovpo in partnership with Across Vape. Designed mainly in stainless steel, its diameter is 22 mm for a height of only 20.70 mm (without drip tip and 510 connection). It has a single coil plate with opposed studs fitted with ergo in order to maintain the coil more easily and its slightly beveled tank allows the use of a guide to correctly place the coil.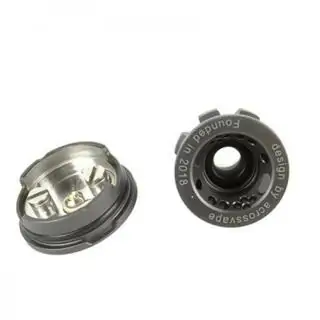 Innovative Airflow
The particularity of the Samdwich lies mainly in its top cap. Perfectly machined it is full of good ideas. Its dome-shaped internal chamber reveals two holes located at the top which allow air to be blown directly onto the coil. The adjustment of the air flow is done by rotating the upper part of the top cap. Offering an opening of 1.8 mm, 1.6 x 2 mm, 1.25 x 4 mm or 1.8 x 3.6 mm in ellipse. Two lugs keep it firmly in place so that it does not turn on itself when adjusting the airflow.
Leak-proof
The position of the airflow of the Samdwich makes it possible to avoid liquid leaks as much as possible and it will be possible to modify its appearance and its air intake thanks to additional top caps (optional). Compatible with bottom feeder, it will be able to accompany you everywhere.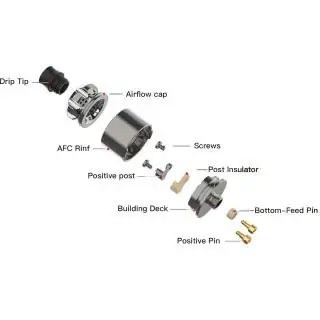 Package content
1 Samdwich RDA
1 1 Bottom feeder pin
1 Bags of spare parts
1 User manual
| | |
| --- | --- |
| Brand | Dovpo |
| Material | Stainless steel |
| Connectors | 510 |
| Diameter | 22mm |
| Dimensions | 22 x 31.9 mm |
| Inhalation | Restrictive Direct (RDL), Indirect (MTL) |
| Filling | Squonk, Drip |
| Airflow | Side, Top |
| Airflow Control | By rotation of an AFC ring |
| Squonk Ready | Yes |
| Deck | Single Coil |
| Origin | China |
| Type of product | RDA Dripper |