The Freddy RDA is a dripper atomizer designed by Voodooll. Made of stainless steel and delrin, it has a diameter of 22 mm. Its single coil deck has diametrically opposed studs and its air inlet is located on top of its top cap. BF compatible, it is DL and RDL oriented.
Freddy RDA par Voodooll
A dripper with sharp claws.
Conception
The Freddy RDA is a dripper designed by the Italian modder Voodooll. With a diameter of 22 mm and a height of 17.90 mm, it is made of stainless steel and PEEK for its deck. Its top cap is made of delrin, greatly limiting the heating of the atomizer. The whole thing is topped with an aesthetic ring perfecting the design of the Freddy RDA.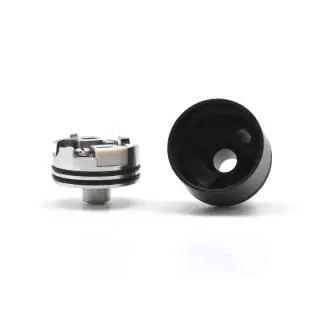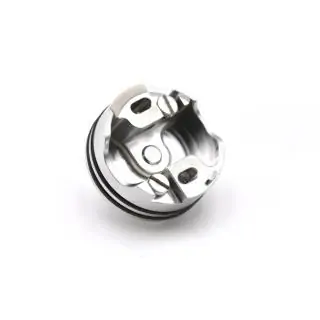 Engineering
Voodooll is not new to the RDA sector and the Freddy is their latest innovation. Its plate has two diametrically opposed studs as well as positioning channels to ensure that the resistance is perfectly aligned with the air inlets. Equipped with top airflow, the air is distributed on each side of the resistance in order to get the most out of your e-liquids.
Squonk and Design
The Freddy RDA is bottom feeder compatible thanks to a pin specially designed for this purpose. In addition, it will be very pleasant in daily use because with its top airflow system, it will greatly limit e-liquid leaks due to oversupply of its deck. Delivered with a 22-24 mm stainless steel ring, it will pair perfectly with the majority of boxes on the market.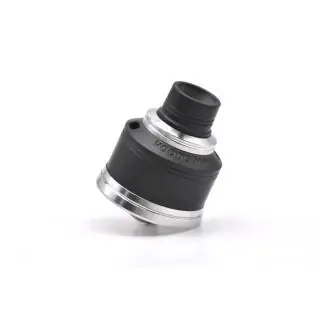 Contents of the packaging
1 Freddy RDA
1 Aesthetic ring 22 – 24 mm
1 Pin Bottom Feeder
1 Bag of spare parts