Flave Tank 22 RS - Alliancetech Vapor
The Flave Tank 22 RS is a dripper tank designed by Alliancetech Vapor. With a diameter of 22 mm, it is only single coil. This new version has a top cap compatible with 810 drip tips, easy tank filling, a PSU tank with a capacity of 2 ml and a reduced chamber.
Flave Tank 22 RS - Alliancetech Vapor
The Flave Tank is back with this RS version which brings together in a single atomizer all the requests of fans of the brand.
The reference
The Flave series shines with its fame throughout the world. Designed by the French modder Alliancetech, the Flave have been able to charm vapers with their great qualities and their rendering of flavors. Efficient and ergonomic, this new version is the culmination of the line.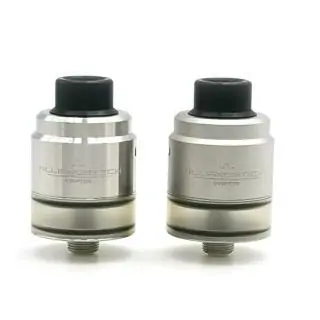 Major developments
This RS version brings a lot of new features that will certainly be greatly appreciated. First, exit the proprietary drip tip. Alliancetech now adopts the 810 format. The tank has a new look with a new material, the PSU, more resistant to shocks and aggressive liquids. Latest news and not the least, it is now possible to fill your tank without removing the top cap. Contract completed for Alliancetech.
Technical aspect
All these new features are added to the excellent technicality of the Flave, namely a Dripper Tank with a capacity of 2 ml compatible Bottom Feeder equipped with a single coil plate with diametrically opposed post and having an atomization chamber scaled down. The placement of the coil is still easy and the air flow is controlled by rotating the top cap. This RS version will undoubtedly charm the most demanding vapers.
Package content
1 x Flave Tank RS 2
1 x BF Pin
1 x Bag of spares