The Cthylla is a hybrid mechanical box mod designed by Scottish modder Deathwish. Entirely made of anodized aluminum, and operating using a 21700 battery, it has a lockable switch, large copper contacts and can accommodate atomizers with a maximum diameter of 30 mm.
Cthylla by Deathwish Modz
Discover the epitome of performance with the Cthylla by Deathwish Modz, a raw embodiment of the 21700 power. Renowned for its high-end creations with unparalleled finishes, Deathwish Modz makes no compromises with the Cthylla.
Brutal
The case and anodized aluminum panels of the Cthylla are meticulously engraved and hand-painted, offering a brutal aesthetic and unparalleled craftsmanship. With dimensions of 85 mm x 40 mm x 31.8 mm and a weight of 285 g, this masterpiece is both imposing and elegant.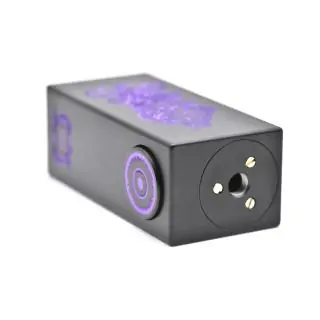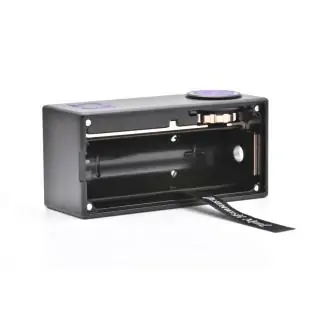 Adaptive Switch
Equipped with an adjustable side switch, the Cthylla offers ultimate customization. Adjust the switch travel according to your preferences for optimal ergonomics. The switch also features a locking mechanism to ensure maximum safety during transport. Simply activate the lock by turning the wheel behind the switch, preventing any accidental activation.
Copper!
The Cthylla spares no expense when it comes to the quality of its contacts. Wide and thick copper strips ensure exceptional conductivity. The battery compartment features a negative pole on a spring for easy insertion and removal of the 21700 battery. The switch contacts are also entirely copper, ensuring uncompromising performance.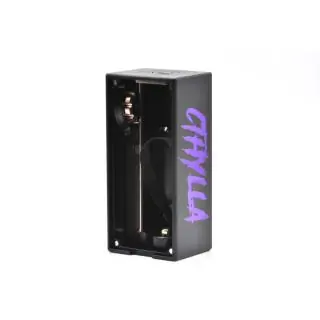 Packaging Contents
1 Cthylla
1 Screwdriver
1 Authenticity Card
1 User Manual
1 Bag of Spare Parts