The DotShell is a rebuildable atomizer designed by Atmizoo specifically for the DotAIO of DotMod. It allows single coil assemblies and has an air flow adjustment at its base, its capacity is 3 ml.
DotShell by Atmizoo
Building on the success of the Vapeshell for Billet Box Atmizoo arrives on the DotAIO.
A Shell to rule them all
The Dotshell is not a simple rebuildable deck to slide inside your DotAIO, it is the heart of it, it completely replaces your original tank. Its design is most ingenious, its simple coil tray is located at the base of the tank of your DotAIO. Clever, because the liquid arrivals are done above the plate which allows to recover all the liquid contained in your tank. This positioning also allows you to glean a few milliliters, with the DotShell we go from 2.5 ml of capacity to 3 ml.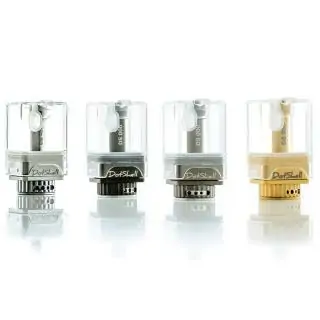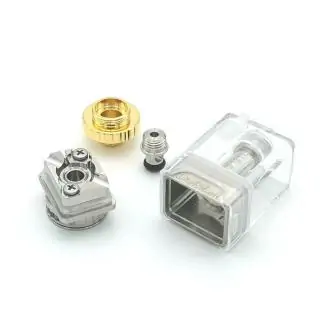 Very easy to use
Atmizoo used a lot of Vapeshell to design the DotShell. In order to access the deck, nothing could be simpler, just take it out of the DotAIO, turn it over and pull on the base of the tray. Advantage certainly, you have access to your assembly even if the tank is filled unlike the other systems currently available. To stabilize your resistance, you must unscrew the airflow ring and provide the base with the 510 thread provided. Once screwed to the Dotshell you can use any electronic box to control your coil.
Airflow modular from side to side
The center of the deck reveals a large air intake of 3.8 mm. The adjustment of the flow is done by simple rotation of the ring located at the base of the DotShell letting appear 4 holes on both sides. Atmizoo does not stop there and provides for those who need a more restrictive draw a positive stud which is drilled to 2 mm in diameter. To install it, simply unscrew the airflow ring to access the central pin and replace it. If this is still not restrictive enough for your taste, pins drilled at 1mm, 1.2mm and 1.5mm are available as an option, these are clipped directly to the center of the plate in the air intake and are held firmly by an O-ring.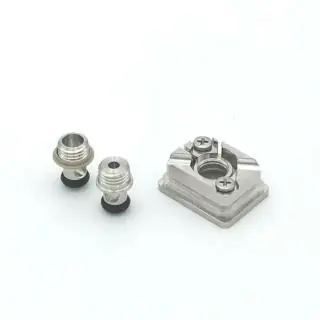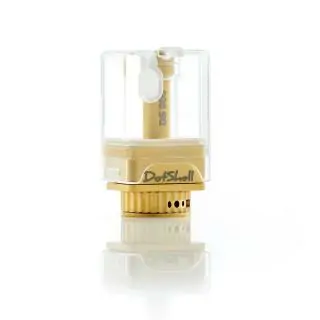 Qualitative in every way.
All the part welcoming your coil as well as its chimney is made of stainless steel 316, the screws are in SS304 and the insulators of DotShel are in PEEK guaranteeing an excellent durability as well as a very good resistance to heat. Its PCTG tank will face the aggressive liquid.
Package Content
1 DotShell
1 Base 510
1 Positive pin D2.0mm
1 Spare parts kit
1 user manual