The Zeus Z Sub-Ohm is a clearomizer designed by GeekVape with a capacity of 5ml or 3.5ml. From the line of atomizers of the same name, it benefits from top filling and is leak-proof thanks to its airflow system located on the top cap. It uses Z mesh coils and its diameter is 26 mm.
Zeus Z Sub-Ohm

 by GeekVape

All the innovations of Zeus repairable atomizers in a Clearomiser
No compromise
This clearomiser comes from the long line of Zeus atomizers and takes advantage of Geekvape's know-how in this area in order to make it accessible to the greatest number. The Zeus Sub Ohm is therefore a clearomiser using resistors with a value of 0.2 ohm or 0.4 ohm bearing the name of Mesh Z1 or Z2 following the chosen value. Directed in direct inhalation, Zeus Sub Ohm resistors use Mesh technology to perfectly restore the aromas of your e-liquids.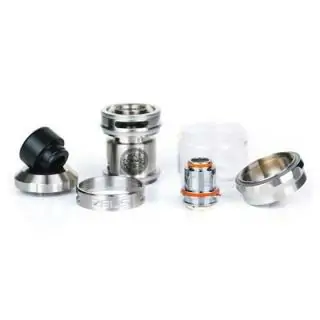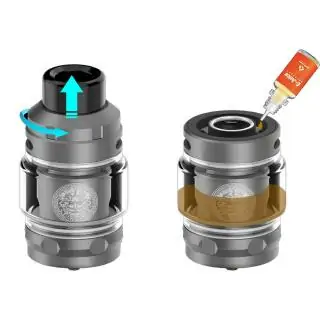 Easy to use
The Zeus benefits from top filling. To access it, simply turn the top cap a quarter of a turn to fill the reservoir with 5 ml or 3.5 ml. Changing the resistance is just as quick as filling. Once the base of the atomizer is unscrewed the resistance is very easily removed, by pulling on it. Note that this manipulation can be done with the full tank without losing a drop of liquid.
Leak-Proof
This is where the Zeus proves to be one of the best Clearomizers on the market. Its airflow system directly borrowed from its big brothers gives it the advantage of being dry in all situations. The air inlets being located on the top of the tank it is very difficult to end up with leaks of liquids.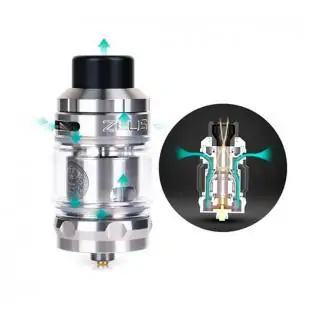 Content of the packaging
1 Zeus Sub Ohm
1 Resistor Mesh Z1 0.4ohm
1 Resistor Mesh Z2 0.2ohm
1 key for resistors
1 3.5ml straight tank
1 bag of spare parts
1 User manual
| | |
| --- | --- |
| Brand | Geekvape |
| Capacity | 05ml, 3.5ml |
| Material | Stainless steel |
| Connectors | 510 |
| Diameter | 26mm |
| Dimensions | 22 x 42.5 mm |
| Inhalation | Direct (DL) |
| Tank | Borosilicate |
| Filling | Bottom filling |
| Airflow | Top |
| Airflow Control | Yes |
| Deck | Non Rebuildable |
| Difficulty | Easy |
| Origin | China |
| Type of product | Clearomizer |