Kashmira S-PROro Engraved by SnV - PRC
The Kashmira S-PROro in White Delrin and Black Aluminum is a bi-material boro tank for AIO mods designed by the Spanish modders of PRC. This version is engraved in France by SnV Mods. The S-PROro are compatible with mods accepting the Boro Rev 4 format from Billet Box. They have an air flow on the front and on the sides.
Kashmira S-PROro by Protocol Engraved by SnV
New bi-material version of the PROro engraved by SnV Mods
White Delrin x Anodized Aluminum
The S-PROro is an alternative tank to the Boro R4 from Billet Box Vapor. "S" for sexy because this new PROro-S is bi-material which allows new color combinations to best associate it with your favorite AIO. Always compatible with most AIO boxes on the market, it has air inlets on the front and on the sides.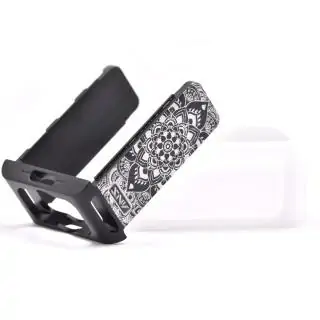 Delivery methods available
Item shipped only by delivery against signature. Does not benefit from the offer without signature "Free delivery from 59€". Find our shipping rates on our dedicated pages.