SteamShell Deluxe Edition- Atmizoo
The SteamShell Deluxe Edition is a rebuildable bridge designed by Greek modder Atmizoo. Compatible with the Boro R4 format, it has a single coil mounting deck, a multitude of airflow is two chimney for vape MTL, RDL or DL.
SteamShell Deluxe Edition by Atmizoo
The most complete edition of the SteamShell
A bit of history
The Vapeshell released in 2018 is the bridge reference for Boro R4. Ingenious, and effective it has allowed many amateurs to enjoy an RBA on AIO box and no doubt it has inspired many of those on the market. Atmizoo pays tribute to him with the SteamShell which takes the strengths of its predecessor while bringing major innovations.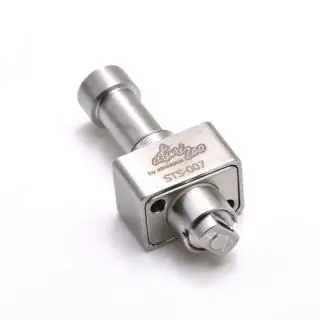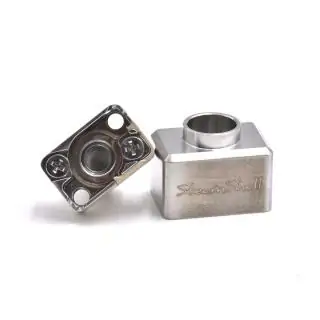 The return of the king
At first glance the SteamShell looks like the VapeShell and yet they are totally different. Always compatible with the boro R4 format, once the atomization chamber is removed, there is a deck with diametrically opposed studs that can accommodate a coil. Held by two Phillips screws, the presence of stops on the studs will greatly facilitate the installation of the coil. The liquid inlets are now conical allowing a better feeding of cotton. Practical, with the SteamShell it will be possible to have real-time access to its deck if it is used with a bottom-opening boro like the SnailTank.
All airflow styles
This Deluxe edition of the SteamShell includes all the pins, tubes and chimneys to regulate its airflow. The 5 airflow pins (0.8 mm / 1.0 mm / 1.2 mm / 1.5 mm / 1.8 mm) are clipped directly under the coil. The airflow tubes are to be screwed under the deck and can be modified at any time. There are 5 (2.0 mm /2.5 mm /3.0 mm /3.5 mm /4.0 mm) they allow a simple and quick adjustment of the airflow from under the bridge. It should be noted that it is possible not to use them in order to have a maximum airflow of 5.0 mm! To complete this panel of airflow, two chimneys will offer even more precision, with one made for a restrictive vape with 3.5 mm opening and the other for an aerial vape with 5.0 mm opening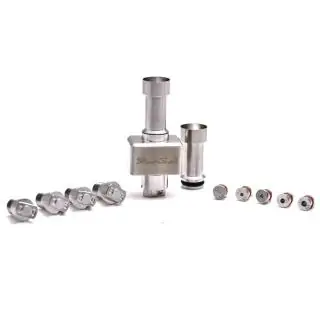 Package content
1 SteamShell
2 Chimney 3.5 mm et 5.0 mm
5 Airflow Tubes (2/2.5/3/3.5/4.0 mm)
5 Airflow pins (0.8/1.0/1.2/1.5/1.80 mm)
2 Post screws
1 Spare O-ring
1 User manual