The Flipper MOBB MINI Keychain Titanium is a rebuildable bridge atomizer designed for AIO mods using the Boro R4 format. Made by Monarchy in partnership with Friendly Flipper, the Mobb mini is machined in titanium and has a single coil deck and airflow adjustment by interchangeable pins.
Flipper Mobb Mini by Monarchy Vapes & Friendly Flipper
The partnership between the Polish modder and the Canadians of Friendly Flipper is at its peak with this edition of the Mobb Mini.
Titanium
The reputation of the Mobb Mini is well established and it is for this reason that Friendly Flipper has partnered with Monarchy Vape for this edition entirely designed in titanium. Designed for AIOs, it is compatible with the Boro R4 format and offers MTL-RDL draw.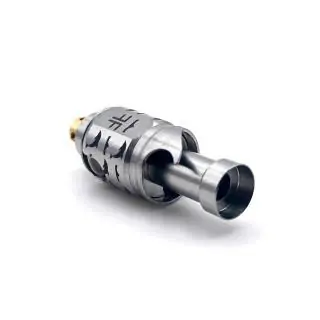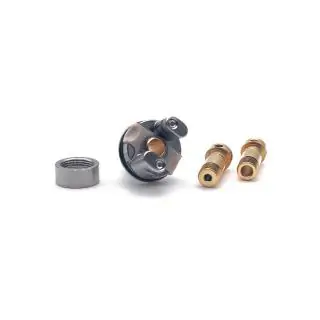 Simple and efficient
The Mobb mini features a single coil deck with opposed studs. Its assembly is facilitated thanks to two slots in these studs in order to slide the legs of your resistance which will be firmly maintained by a screw. Equipped with a 510 connection at its base, it is not necessary to have an adapter to stabilize its coil. The airflow of the Flipper Mobb Mini is adjustable using interchangeable pins ranging from 3.5 mm to 1 mm opening.
A fin in a Boro
The specificity of the Flipper Mobb Mini is its titanium design but that's not all. The crown of the atomization chamber is machined in the shape of a fin reminiscent of the mascot of Friendly Flipper. Giving a unique style to this bridge. It should be noted that all accessories compatible with the Mobb Mini are compatible with this Flipper edition.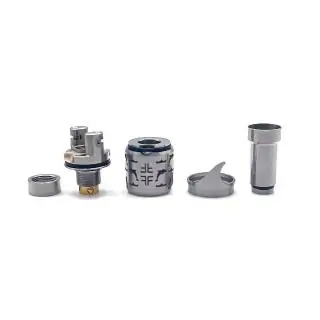 Package contents
1 Flipper Mobb Mini
3 Airflow pins 3.5 mm, 2.0 mm, 1.0 mm
1 Set of Orings