The Maven BLCK is a rebuildable bridge designed by the Spanish modder PRC. Compatible with the Boro R4 format, it has a single coil deck for a typical MTL - RDL vape. Its airflow is adjustable using interchangeable pins and it will be possible to customize it.
Maven BLCK Bridge by PRC
The successor to the Atom does not do half measures!
Neat design
The Maven is the second bridge from the PRC modder, it takes advantage of the experience acquired with the Atom in order to achieve a compact bridge, design, efficient but also easy to use. Designed in SS316 L, the Maven has a single coil plate with opposite post. Each post is provided with a clamp which is lifted at the same time as the screw, in order to guarantee a better support of the resistance and to improve the surface in contact with it.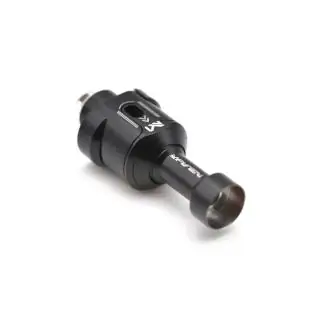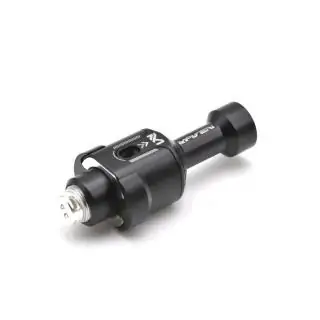 Silver Airflow
Like most bridges, the Maven comes with adjustable airflow pins allowing you to oscillate between a more or less restrictive vape. These pins are screwed under the deck and they are also the ones that ensure the positive connection of the bridge. It is for this reason that unlike other bridges, the Maven has silver-plated SS316L pins in order to perfect their conductivity and longevity as much as possible.
Ovalized
The oval shape of the Maven has been designed to perfect its rendering, it is for this reason that its cap is completely bevelled so that the incoming air flow does not encounter any flat surface. This design also benefits the placement of the coil and the cotton which offers considerable space and therefore easy assembly. It should be noted that the Maven is equipped with a 510 thread without an adapter in order to facilitate the stabilization of your coil.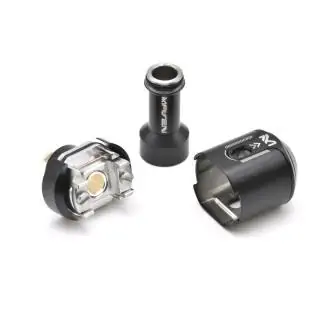 Contenu du packaging
1 Maven BLCK
14.0 mm Airflow pin
1 3.5 mm Airflow pin
1 Spare bag