Chucky Revenge - Voodooll
The Chucky Revenge is a rebuildable bridge designed by Italian modder Voodooll. An evolved version of the Chucky, the Revenge is compatible with the Boro R4 format, it has a large single coil deck, 2 chamber reducers and two chimneys allowing an MTL, RDL or DL ​​vape.
Chucky Revenge by Voodooll
The Chucky is back in a more complete version that will delight all styles!
Time for revenge
The Chucky Revenge is the evolution of the Chucky RBA first bridge from the Italian modders of Voodooll. This new edition has a new design for the atomization chamber, a redesigned parallel post single coil deck and a multitude of accessories in order to be able to customize its rendering so that it can satisfy both an audience DL than MTL.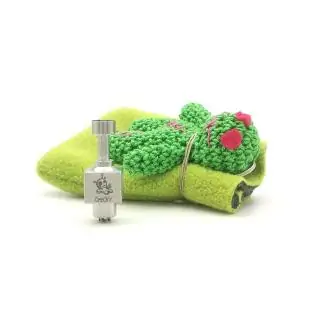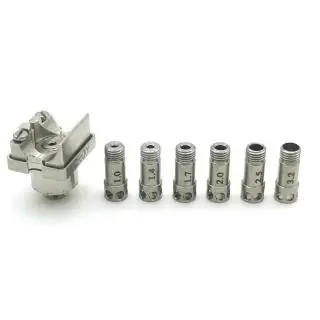 Airflow polyvalent
The Chucky Revenge like its elder, offers multiple airflow settings but this time it is not less than 7 airflow pins ranging from 1.0 mm to 3.2 mm that it will be possible to install at the heart of the deck. Voodooll does not stop there and it is now possible to modify the opening of the chimney in order to refine the draw even more. Two chimneys with respective openings of 3.5 mm and 4.5 mm are delivered with the Chuck Revenge.
Rendering and ease of use
This new edition of the Chucky has 2 peek restriction chambers to be installed in the atomization chamber allowing you to modify the rendering of your liquids. In addition, the Chucky Revenge is still as easy to use thanks to its 510 connector integrated into the deck and its large studs.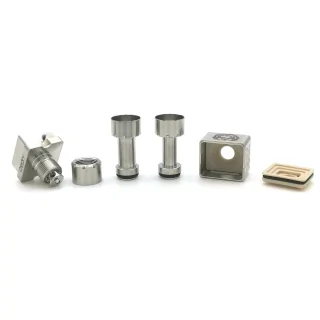 Package contents
1 Chucky Revenge
7 airflow pins (1.0, 1.2, 1.4, 1.7, 2.0, 2.5 and 3.2 mm)
2 Chimneys
2 Chambers of restriction
1 Mini Voodoo 
Delivery methods available
Item shipped only by delivery against signature. Does not benefit from the offer without signature "Free delivery from 59€". Find our shipping rates on our dedicated pages.
Bridge assez compliqué à coiler, plutôt orienté mtl même si un plug de 3 mm air flow est donné , rigoles minuscules, arrivée de Juice minuscule. Obligé de passer du jus en 50/50 max et le coton le couper au raz du deck côté interne, puis élargir au max pour qu'il prenne la forme du plateau sinon dry hit assuré. Coil 2.5 mm max (mtl même pour du DL) sinon il est trop long et le coton qui reste aux extrémités est ridicule. Cette configuration marche nickel. Côté gravure top sinon, moyen à cause du cottonage compliqué mais fonctionne bien et bonnes saveurs si bien cottoné.

Miguel C.

published the 28/12/2022

following an order made on 10/12/2022