The Aviator RTA is a rebuidable atomizer designed by Polish modders Amber Mods. With a diameter of 22 mm and a height of 30 mm, its capacity is 3.5 ml. Its assembly plate is single coil and it is oriented vape MTL and RDL.
Aviator RTA by Amber Mods
A real piece of goldsmithery.
Fuselage
With a diameter of 22 mm and a height of only 30 mm, the Aviator RTA flatters the retina thanks to its chrome parts and its protective cage of the PCTG tank with a capacity of 3.5 ml. Its drip tip perfectly adapted to the style of this RTA combines flat and curved face to maximize comfort in the mouth.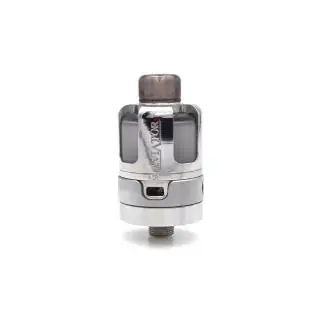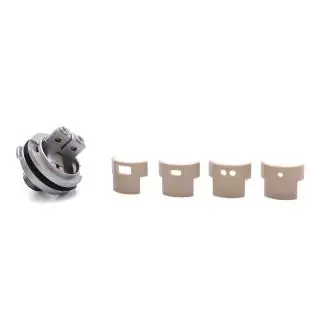 Deck and air intake
The Aviator RTA features a rebuildable single coil parallel post deck. Accessible by unscrewing the lower ring, the deck is firmly held by an O-ring and a system of notches. Opposite the pads is the airflow control that can be modified using 4 Peek pieces with diameters of 1.20 mm, 1.5 mm x2 - 1.5 mm x 3 mm and 2.23 mm x 4.4 mm.
Injection
Amber Mods hides a last novelty with the Aviator. Its filling. An ingenious system is hidden under the rotating air flow control ring. In addition to having a liquid flow control, a specific position makes it possible to reveal an orifice intended to receive the tip of a bottle of liquid and thus avoid as much as possible any leakage during filling.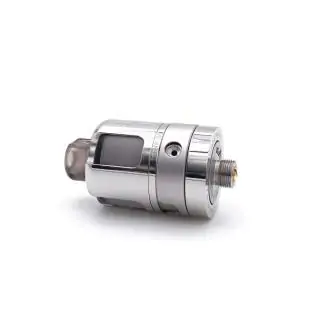 Package contents
1 Aviator RTA
4 Airflow Pins
1 Bag of spare parts
| | |
| --- | --- |
| Brand | Amber Mods |
| Capacity | 3.5ml |
| Material | Stainless steel |
| Connectors | 510 |
| Diameter | 22mm |
| Dimensions | 22 x 30mm |
| Inhalation | Indirect (MTL), Restrictive Direct (RDL) |
| Tank | PCTG |
| Filling | Front |
| Airflow | Side |
| Airflow Control | Yes |
| Liquid Control | Yes |
| Deck | Single Coil |
| Origin | Poland |
| Type of product | RTA Tank |