The Silo is a rebuildable atomizer designed by jG and Orca Vape. Compatible with the DotAIO format, it has a capacity of 4.4 ml and a single coil deck. Its air adjustment is made by interchangeable pins allowing an MTL to RDL vape.
Silo RBA by jG x Orca Vape
The jG modder and Orca Vape have seen big for this little RBA
Gargantuan
The Silo RBA is a rebuildable atomizer that fits in your DotAIO or any other box of the same format. Composed of a PCTG tank and made of stainless steel, the Silo RBA has an astonishing capacity of 4.4 ml which makes it the tank with the largest liquid capacity for this format. Easily refillable using a silicone tab on the front, it drastically increases the capacity of your AIO.
An ingenious deck
The Silo tray is located at the bottom of the atomizer and is easily accessible by pulling on it. Allowing the installation of a resistance, these studs are fitted with M2.5 screws which guarantee excellent maintenance of your resistance, even with thick wires. A 510 adapter comes with the Silo so you can easily install it on any electronic mod to stabilize its resistance. Two large tanks on the sides allow a perfect dosage of the cotton which will be supplied with liquid from the top thanks to a drip system.
Multiple airflows
The air flow settings on the Silo RBA are multiple. Made using interchangeable pins to be screwed under the plate, there are 7 of them, with diameters of 0.8 mm, 1.0 mm, 1.2 mm, 1.5 mm, 2.0 mm, 2.5 mm and 3.0 mm. This large panel makes the Silo very versatile and able to provide a vape ranging from MTL to RDL.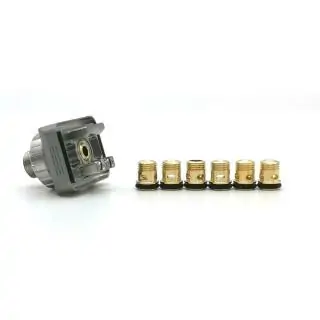 Package contents
1 RBA Silo
7 Airflow Pins
1 bag of spare parts
1 510 adapter