The Melo 5 is a clearomizer of the Eleaf brand. With a capacity of 4 ml it has a top filling and airflow control. The Melo 5 works with the resistance EC series: EC2, EC-S, EC-N, etc. This clearomizer has an e-liquid entry locking system when the base is unscrewed, during a change. resistance, for example.
Clearomizer Melo 5
The next generation of Eleaf's flagship Clearomizer. The Melo 5 wants to be a versatile and effective atomizer!
Aestheticism
You'll understand Melo take muscle! With a base 25 mm in diameter, a 28 mm wide tank and a height of 57.3 mm, the Melo 5 is an imposing clearomizer. Its 4ml "bulb" tank equipped with a silicone net will protect it in case of small falls, exit the Vape-bands. It is also supplied with a neutral bulb Pyrex.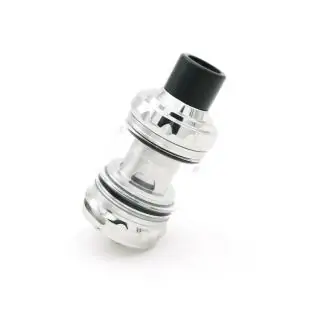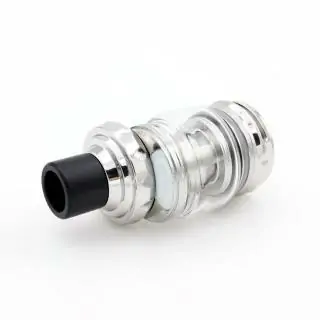 Filling
To fill your atomizer you will need to pull the top cap with a child safety, then slide it to the side to access the filling hole. A secure system ideal for the transport of the atomizer, you do not risk seeing your clearomizer open in your pocket.
The Base
The Melo 5 Base is equipped with a rotating airflow control ring. A large Cyclops will allow a Vape in indirect inhalation as for the indirect Vape, it will position the airflow on the small holes provided for this purpose. The particularity of the Melo 5, its base is equipped with a Bottom Lock System, behind its barbarian name hides an ingenious system. Indeed, when you unscrew the base of the atomizer body for a change of resistance for example and you also close the arrival of e-liquid Melo 5.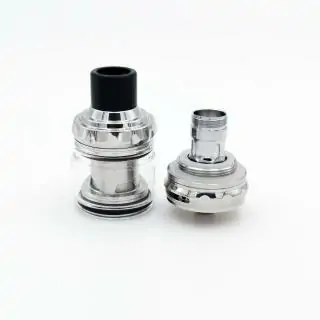 Content of the packaging
1x Clearomizer Melo 5
1x EC-S 0.6 ohm
1x EC-M 0.15 ohm
1x Tank and O-rings
1x User Manuel