The Heir V2 RBA is a rebuildable bridge designed by GKI. Compatible with the Billet Box Boro R4 format, it is equipped with a single coil deck with clamps, multiple air settings using interchangeable pins and a 510 connection.
The Heir V2 RBA by GKI
Version 2 of the famous Heir which pays homage to the simplicity and efficiency of its predecessor.
Bases unchanged
The Heir V2 is a rebuildable bridge compatible with the Boro R4 format. Taking the design of the first version, its plate allows the installation of a resistance maintained by two opposite posts having a system of clamps guaranteeing an excellent maintenance of the resistance. A 510 connection at the base of the plate allows it to be aimed at an electronic mod in order to stabilize its resistance without an adapter.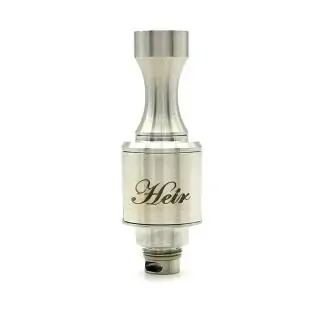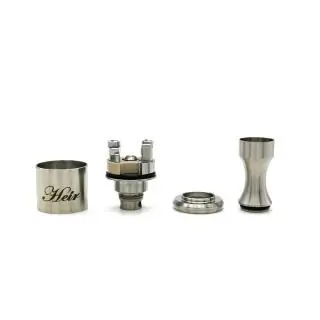 Full of novelties
This version 2 of the Heir is full of new attentions. First, its size is slightly reduced, which increases the capacity of on-board liquid. These clamp mounts have larger screws simplifying the installation of the coil and its atomization chamber consists of two parts, making it much easier to insert it into the boro. The liquid supply channels have also been revised to guarantee better cotton supply.
Even more airflow
The Heir V2 has an airflow adjustment by interchangeable pins and by inserts. Delivered with two pins, the first of 4 mm in diameter is reserved for DL ​​use and the other of 3.5 mm in diameter allows the addition of a screw-in insert reducing its air flow up to 1.0 mm in diameter. It should be noted that the pins can be removed and modified without having to remove the Heir V2 from the boro, or even the coil.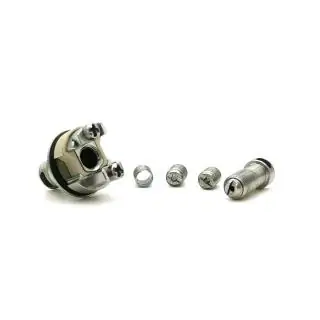 Package contents
1 Heir V2
1 Pin 4mm (pre-installed)
1 Pin 3.5mm
4 Inserts
1 Bag of spare parts
Delivery methods available
Item shipped only by delivery against signature. Does not benefit from the offer without signature "Free delivery from 59€". Find our shipping rates on our dedicated pages.