The Heir V2 Diamond Series is a rebuildable bridge designed by GKI. Compatible with the Billet Box Boro R4 format, it is equipped with a single coil deck with clamps, multiple air settings using interchangeable pins and a 510 connection.
The Heir V2 Diamon Series by GKI
The Heir V2 is getting a makeover!
Design and deck
The Heir V2 Diamond Series is a rebuildable bridge compatible with the Boro R4 format. This new edition is based on the achievements of the V2 but is now machined in SS304, with a new Diamond design and sumptuous colors. Composed of a single coil deck with opposite posts equipped with clamps, and a 510 connection at its base to facilitate the running-in of the coil.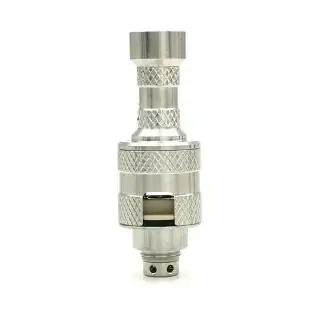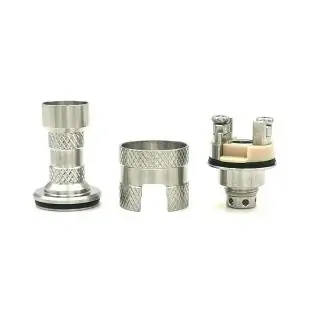 Listening to enthusiasts
This Diamond Series version of the Heir V2 is not only based on a new skin and new colors. Improvements have been made throughout the bridge. The most glaring is the chimney. Now composed of a single piece, it is even easier to install in a boro. The deck is equipped with notches that hold the chimney in place and prevent it from turning on the deck and the studs have been reworked to facilitate the placement of the coils.
Maximum airflows
With an airflow adjustment by interchangeable pins, this Diamond Series version comes with a total of 8 pins. The pre-installed 4.0 mm pin will delight DL vapers, for those wishing a more restricted sorting, the choice will be 3.5 mm, 3.0 mm or 2.5 mm. MTL vape enthusiasts will not be disappointed with the pins, 1.4 mm, 1.2mm, 1.0 mm and even 0.8 mm.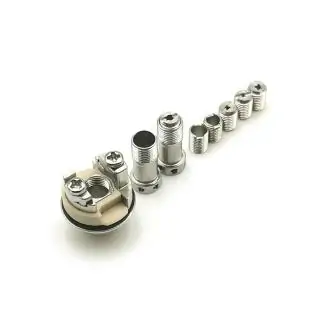 Package contents
1 Heir V2 Diamond Series
1 Pin 4mm (pre-installed)
1 Pin 3.5mm
6 Inserts
1 Bag of spare parts
Delivery methods available
Item shipped only by delivery against signature. Does not benefit from the offer without signature "Free delivery from 59€". Find our shipping rates on our dedicated pages.