Cthulhu White Delrin AIO Box - Cthulhu Mod
The Cthulhu White Delrin AIO Box is a regulated AIO mod designed by Cthulhu Mod compatible with the boro R4 format. Equipped with a chip that can deliver a maximum of 60W, it works with an 18650 battery and comes with a Boro and two bridges, one of which is rebuildable. This special edition is designed in delrin and benefits from several new features.
Cthulhu AIO Box by Cthulhu Mod
Special edition in white delrin with black doors a transparent inner and a new AIO connector.
Compact and electronic
Cthulhu Mod surprises us in many aspects with its AIO box. With a size of only 80 mm x 48.2 mm x 22.2 mm, it is one of the most compact regulated AIO boxes on the market. Compatible with the vast majority of Bridge and Boro in Boro R4 format, the Cthulhu AIO Box works with an 18650 battery and has a USB-C port on its edge.This edition is made in white Derlin and benefits from a new 510 adapter that can be screwed and unscrewed without tools.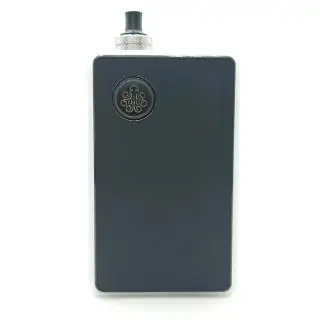 Chipset Atom
This is the name of the chip used in the Cthulhu AIO Box. With a maximum power of 60W, this chip has 5 operating modes, Watt, Volt, Temperature control, TCR and bypass. All the information necessary for its use is transcribed on its small screen and its settings are accessible via two buttons located at the bottom of the Cthulhu AIO Box. An ingenious LED system in the main button lets you know if the mod is working or not without having to remove the doors. In addition, this White Delrin version reveals the chip thanks to an entirely transparent frontage with the most beautiful effect.
Bridge and Boro
The Cthulhu AIO Box comes with a boro designed by Cthulhu Mod. In a smoked black color, it has a filling on the front thanks to a silicone tab and will allow the use of the BVC Nautilus bridge or the repairable bridge provided. This repairable CM RBA bridge has two diametrically opposed studs that allow the installation of a resistor. An airflow adjustment is present in its center using interchangeable pins ranging from 0.8 mm in diameter to 3 mm in opening.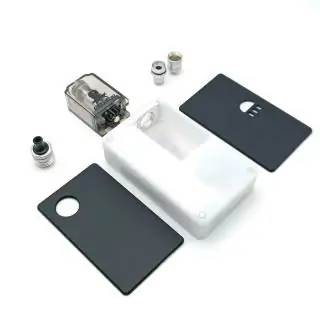 Package contents
1 Cthulhu White Delrin AIO Box
1 USB-C cable
1 Boro Cthulhu
1 Bridge BVC
1 Repairable Bridge
4 Airflow Pins
1 Drip tip 510
1 bag of spare parts
1 Instructions for use
| | |
| --- | --- |
| Brand | Cthulhu Mod |
| Format | Box |
| Chipset | Atom |
| Max power | 60W |
| Temperature control | No |
| Built-in battery | No |
| Number of batteries | 1 |
| Battery Size | 18650 |
| USB Port | Type C |
| Material | Delrin |
| Connectors | Proprietary |
| Dimensions | 80 x 48.2 x 22.2 mm |
| Inhalation | Direct (DL), Restrictive Direct (RDL) |
| Tank | PCTG |
| Filling | Front |
| Airflow | Bottom |
| Airflow Control | Yes |
| Deck | Single Coil |
| Difficulty | Advanced |
| Origin | China |
| Type of product | Boro Box Mod |