The Rubik RTA is a rebuildable atomizer designed by the Mc2 team. Designed in stainless steel, it has a diameter of 23 mm, it has a single coil deck and 3 atomization bells allowing you to play on flavor renderings. Its capacity is 5 ml and it is oriented for an MTL - RDL vape.
Rubik RTA - MC2 Vapor
The RTA inspired by the homonymous bridge
Features
The Rubik RTA is a rebuildable atomizer designed by Mc2 based on the Rubik RBA. With a diameter of 23 mm for a height of only 42 mm, it has a good capacity of 5 ml. Its single coil plate is composed of two parallel opposite studs and each stud is equipped with lugs to facilitate the placement and maintenance of the coil.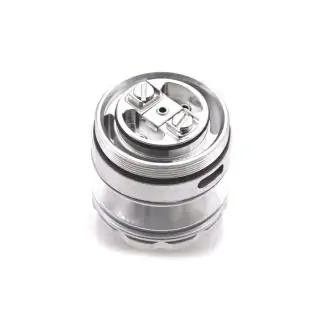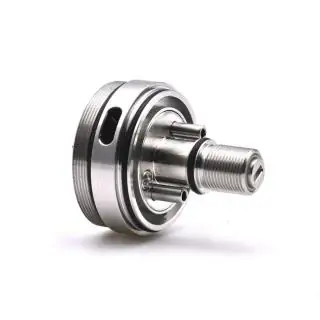 Original design
The Rubik RTA is easy to use and ingenious. Its liquid supply is made through two stainless steel straws which will bring the liquid up to the resistance. The placement of the cotton is therefore simpler because it forgives dosing errors. The filling meanwhile to do from the top of the RTA by unscrewing its top cap.
Customizable rendering
The great feature of the Rubik RTA is its versatility. Its airflow adjustable by interchangeable pins allows you to vary between 1.2 mm, 1.4 mm or 1.8 mm opening. Delivered with 3 atomization bells (round, square or stepped) which allow you to better refine the perception of your favorite liquids. For lovers of a more aerial vape, it is possible to obtain more aerial airflow kits and other types of bells to maximize the versatility of the Rubik RTA.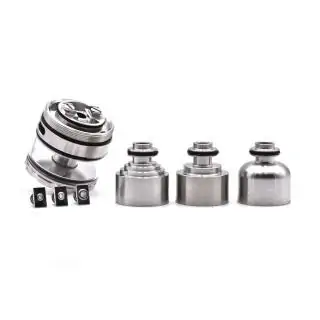 Package contents
1 Rubik RTA
3 Airflow Pins (1.2 mm / 1.4 mm / 1.8 mm)
3 Atomization bell (round, square and staircase)
1 Delrin drip tip
1 Spare Pyrex
1 Bag of spare parts
1 User Manual
| | |
| --- | --- |
| Brand | Mc2 |
| Capacity | 05ml |
| Material | Stainless steel |
| Connectors | 510 |
| Diameter | 23mm |
| Dimensions | 42 mm x 23 mm |
| Inhalation | Indirect (MTL), Restrictive Direct (RDL) |
| Tank | Borosilicate |
| Filling | Bottom filling |
| Airflow | Top |
| Airflow Control | By interchangeable pins |
| Deck | Single Coil |
| Origin | Italy |
| Type of product | RTA Tank |
Delivery methods available
Item shipped only by delivery against signature. Does not benefit from the offer without signature "Free delivery from 59€". Find our shipping rates on our dedicated pages.
Un RTA au top, particulièrement adapté aux NETs évidemment: facile à monter, très bien usiné et avec un rendu gouteux et très fidèle. Une grand réussite à un prix contenu pour du vrai high-end sans fanfare mais soigneusement étudié dans les moindres détails.

Frederic H.

published the 07/08/2023

following an order made on 16/07/2023